Wednesday, May 24, 2017
This post has been removed by the author to begin querying.
Written by

L.B. Scott
3 comments:

Thursday, May 18, 2017
Recently it's felt like everything in life is happening at once. I mean, things that have been held up for months are moving forward, things like, my cat needs to have a tooth pulled and my car's check engine light keeps fluttering on and off (so the mechanic can't see what's wrong, until say… the water pump explodes while you're driving. Like it did yesterday.)
See.
But it's okay because the cat is older so you expect these things, and the car is older than the cat, so luckily it won't cause complete bank account depletion. So really, now's the time, if any, for all these things to happen. It seems everyone is going through some kind of hell and while constant and annoying, it seems to play out rather smoothly. Like, the vet saying that the tooth is going to come out anyway so we don't have to spend $800 putting her under anesthesia, to the water pump bursting by my brother's house, who just so happens to work on cars, when he was home, two blocks from the auto store. So while hellish, it seems they have all concluded rather simply and surprisingly inexpensively, considering. It's been bad luck, and then straight good luck while resolving it.
Last weekend was different, and now that it's over I feel I can share this story.
Last Thursday Irish and I decided to go to Santa Cruz. It's a lovely little town - Wait, no. It's a horrible little town, don't ever, EVER go there. You'll hate it - that I adore, and it's one of our favorite spots to take little weekend trips away. So we decided we had enough credit card points to just book a hotel for the night and have a little escape: walk along the boardwalk, go out to dinner, and just enjoy the chill atmosphere of the seaside town.
So I book this lovely hotel, walking distance to the Boardwalk amusement park (It's terrible. It's expensive and not fun. There's no rollercoasters or Ferris wheels, or view of the ocean, or corn dogs, or churro's and ice cream - Don't google it. Just trust me), and is also walking distance to nice restaurants downtown. There's a pool and waffles in the morning! I asked Irish which place he wanted out of two, and he said, "I'm eating waffles!" and it was done! I booked the room and pressed "confirm" 14 times. We were set! We left Saturday at noon and zoomed out of the city!
We arrived at our hotel at 2pm and it looked lovely! A nice cream building, the glittering outdoor pool, the classy tiled check in, and so we stroll up, and I'm happy as can be.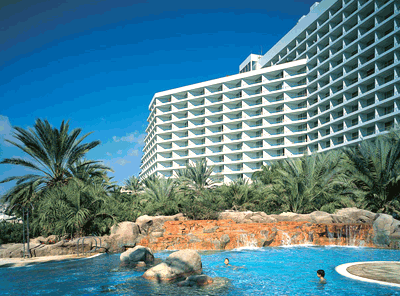 It was nothing like this.
"Good afternoon." The girl behind the counter smiles.
"I booked a room on points yesterday!" I gush, filled to the brim with vacation excitement.
"We have no record of your booking."
"What?" The bottom fell out from under me. I pressed confirm 14 times! I zip through my email on my phone, no record, no email, nothing. I check my credit cards points, they haven't been taken out. I go to see if I can re-book, and the credit card won't let you book same day hotels.
"We have one room available for $$$$ tonight if you like."
This was our cheap weekend getaway. We hadn't planned to spend ANY money on a hotel. We could spend $$$$ on a hotel, OR go online and find something for $$ and move along, or we could abandon the trip and head home as sad puddles of depression. So I hunt along a cheaper hotel website, and find there's a hotel nearby, STILL walking distance to the boardwalk, STILL has a pool, and the kicker - WAFFLES!
The one photo of the pool looks nice enough, so out of stress I book the thing and we drive 0.5 miles to our new hotel!
We arrive at the ugliest, light blue dirt motel I've ever seen in my life, in a scary-ish neighborhood, (nothing is really that scary in SC), and the cops are outside. I repeat, the cops are already here, standing in the parking lot talking to another patron, if you can call them that.
"You really picked a winner there, L.B.," Irish said, as we pulled in (around the cops), and parked.
"We're going to die here," I said, humorlessly.
"Well, we already paid. Let's go check in."
I was horrified. I locked all the doors, and we walked into the little shack of a check in, we tell the guy we booked a room. He doesn't even smile, or look up, or greet us. "Check in is at 3pm."
I think I got stuck in this moment in a thousand yard stare, watching people walk into the indoor pool and deciding immediately I would not be using the pool or hot tub that had looked so nice in the professional photo.
"Well, let's go get lunch," Irish says with a shrug.
So we float in a daze back to the car. I remembered we passed a restaurant I liked when I came to this town a few years prior, and decide we'll head there.
So we park, sweating, realizing our nice, relaxing weekend where we planned to spoil ourselves is overshadowed by the possibility of dying in a dirt motel. We sit down in the little diner-like spot, and Irish goes to the restroom while I look at the menu and realize, dumbfounded, that this restaurant is vegetarian. Irish is a meat and potatoes man's man. I could not have screwed up more and I debate whether to even tell him when he comes back, but of course he'll find out.
"I'm getting the California Burger," Irish said with a happy smile, making the most of my idiocy.
"It's vegetarian," I said sheepishly into the menu.
"What?" Irish scans the menu. "Then what am I doing here?"
"I forgot. Do you want to leave?"
So I ate my vegetarian corn dogs that tasted rather similar to the ones you buy in the grocery store for $5 and microwave, and Irish had his vegetarian burger that he glared at and ate in silence. As I sat eating my soggy unsalted onion rings, I realized this diner is not as good at two in the afternoon as it is at midnight after a house party at the age of 22, but there's beer. So we shake our heads and sit quietly until we can check in at 3pm.
Well, we checked in and it's not the worst motel in history, even with it's baby blue paint and fluorescent lighting, the doors did lock, and the carpet looked clean. However, while glancing at the unidentifiable bargain bin soap and shampoos offered in the bathroom, we decided then and there we would not be using the shower.
We immediately left, (why spend an extra second in that hell hole?) and actually had the time of our lives at the Boardwalk. We went out to a fancy dinner because, well, when life gives you lemons, you might as well make up for it with an expensive steak. And we didn't die. Clearly. As I'm writing this now. Even though the cops showed up again as we were walking back from the steakhouse at 11pm, we found out it was because homeless people were sleeping around the corner, and not that someone was murdered in another room.
Now that it's behind me, I've learned a few things: How NOT to choose a hotel, to press confirm 15 times when you book a room on credit card points, and, that as long as you're with someone you love, even the worst circumstances can become hilarious given enough time.
Namely, five hours after you check out of the Bates Motel.
Written by

L.B. Scott
4 comments:

Wednesday, May 3, 2017
This post has been removed by the author to begin querying.
Written by

L.B. Scott
2 comments: